How to form your own Writers' Group
If you're a writer and would like to connect with other writers in your area, why not form your own Writers' Group or Authors' Club. Being part of a writing group will give members the chance to develop their writing skills individually and together as a team. Members get together on scheduled times to discuss their written work and to inspire each other to continue writing. You could invite guest authors to give talks on how to prepare a manuscript for publication, or an authority on self-publishing. Group members may also want to initiate grand-scale projects like teaching scholars about the different genre of writing.
First, you need to decide what genre of writing you want to focus on — adventure, comedy, crime, romance, children's, fiction, non-fiction, fantasy and historical — the list goes on. You will need to attract people to join your club; start small with 5 – 10 members. Create a simple flyer inviting local writers to join your writing group; include your first name and phone number or email address for interested writers to contact you. Distribute fliers at libraries, colleges, and local book stores. Take a few moments to chat with the people who call you; ask what type of writing they prefer, how accomplished they are as a writer, and why they would like to be part of a writing group.
Inform each caller that you will get back to them when you have enough people to form the writing group. Make a selection from the list of names and call each person you'd like to welcome as a member to your Writers' Group. Set the first meeting. While you're on the phone, ask each of your members to bring a short writing sample – a poem, a short story, or an excerpt from a longer piece – to read aloud at the meeting. This is a great way to introduce members' writing style and skills level. At this stage establish guidelines on what constitutes "constructive criticism".
Decide how often meetings should take place (once a month is ideal) and what day and time generally works best for most of your members. As time goes on you'll want to constantly check that everyone's needs and expectations are being met. Ask for suggestions and actually implement ideas. Writing is a rewarding life skill; by helping your members discover their unique gifts you will also advance your own talents. Please contact Theresa (ecottage@gmail.com) if you need an eye-catching flyer design and also to add your Writers' Group to the SAWN list [if you are already listed, please notify us of any changes]                                                   .
Writers Groups in South Africa
ROSA [http://www.romancewriters.co.za/] is a non-profit organisation founded to support and develop romance writers in and around Southern Africa. For news about chapter meetings, guest speakers, contests, and conferences contact ROSA [http://www.romancewriters.co.za/#!contact/c3kh]. ROSA began as an online chat group of four members and has evolved over the years to include writers, resident in South Africa as well as South Africans living abroad. In 2014 ROSA was officially registered as a non-profit organisation. ROSA has chapters around the country as well as an active online community. ROSA welcome authors at all stages of their journey, whether published or unpublished, self-published or published traditionally, across all genres. Their vision is to provide support, encouragement and professional development to romance writers, especially writers resident in Southern Africa and of South African descent; enhance and promote the various types of romantic fiction and to encourage good writing; support writers of romantic fiction through networking, information, resources and on online community; and represent the genre of romantic fiction within Southern Africa. ROSA runs a series of events throughout the year, including chapter meetings, guest speakers, contests, a conference and an online Nanowrimo bootcamp. To find out more about these events, please follow their blog [http://www.romancewriters.co.za/#!blog/c1sjh]
Agricultural Writers SA [http://www.agriculturalwriterssa.co.za/index.html] The association is a voluntary, non-profit professional association, promoting the image and standards of agricultural journalism in South Africa. It was established in Pretoria in 1977. The association is representative of agricultural journalists serving the industry through magazines, newspapers, radio and television. Qualified membership is also extended to friends of the agricultural media. It remains, however, primarily a body run by journalists for journalists.
Objectives
To promote and foster matters of common interest to members.
To advance the profession of agricultural journalism through the stimulation of thought, study, research, discussion and the dissemination of information to members.
To raise funds to further its objectives.
To nominate and select worthy candidates for its awards.
To support and encourage freedom of the press.
To establish and maintain contact with journalists in other countries.
To maintain neutrality in matters of religion and politics.
To take appropriate action to safeguard the status of the profession.
To maintain close contact with other bodies serving agriculture.
To strive to promote better understanding of the role of agriculture in the community.
To arrange annual competitions to honour competence in agricultural journalism and photography.
How do we achieve this? The association meets annually to discuss matters of common concern, to honor its national award winners and to elect a national chairman, vice-chairman, secretary and treasurer. Together with the chairpersons of the respective branches these four comprise the national executive. The national executive meets at least twice a year to give effect to the decisions of the AGM, attend to finances and ratify action taken by its management committee. Newsletters act as a link between members and the association. Branches are responsible for organizing their own activities, but consult with the national executive on matters of common concern. The various branches find their own sponsors, but sponsorship's are negotiated at national level to fund the annual function, finance national executive meetings and assist branches. The international representative liaises with agricultural journalists and organisations abroad, through correspondence and representation at international meetings, such as the world congress of the IFAJ (International Federation of Agricultural Journalists). Agricultural leaders and other experts regularly address branches on relevant topics. A Farmer and an Agriculturist of the Year are nominated in each region annually, in accordance with strict criteria, and they are honored locally. An independent panel of judges then chooses the national winners from these candidates and honor them in one of the major centers.
How do we serve agriculture? The association strives to encourage its members within the framework of a free and independent press to adopt a responsible and constructive attitude towards the reporting of agricultural matters. The association encourages healthy self examination of agricultural policy and practices and strives to improve the understanding between farmers and consumers.
Contact details: Tel: 082 551 4854. Fax: 086 615 4876. Postal address: Box 14176, Hatfield, 0028. E-mail: info@junxionpr.co.za. Apply for membership [http://www.agriculturalwriterssa.co.za/membership.html]
Options Africa – Contact Monica Cromhout [network@optionsunlimited.co.za]
Writing for Radio Group – Contact Chris Smit [ludolfsa@yahoo.com]
Performing Arts Network of South Africa (PANSA) – Contact pansa@artslink.co.za or (011) 880 5486
PEN – Contact Liesa Jossel [liesajossel@mweb.co.za]
The Network for Arts and Culture South Africa (NACSA) – Contact Georgina [georgina@artslink.co.za] or (011) 482 4140
South African National Writers Association – Contact Monica Cromhout [options@optionsafrica.co.za]
Translators' Institute of Southern Africa (TISA) – Dave [davew@formax.co.za] (011) 466 2400
Academic and Non-fiction Authors' Association of South Africa – Contact Monica Seeber [info@anfasa.org.za] or (011) 489 593
Eastern Cape
Grahamstown Writers' Group – Contact Crysta [C.Warren@ru.ac.za] or (046) 622 7042
King William's Town Writers' Network – Nosiphiwo Macaula [piwomacaula@gmail.com]
Gauteng
NEW GROUP! "September 2017 – Melville surrounds. Procrastinate much? Blocked? I am interested in forming a small writing group (max. 4 members including me) in which we can challenge and motivate each other to complete writing projects in fiction, adult or children's literature. I have editing skills and experience in the publishing industry that might be useful to you. Meetings would be on a weekday evening between 5-7/8 p.m. fortnightly or once a month depending on what suits the majority. Please contact Donna at donnamoore.book@gmail.com  with some info about yourself and on what piece of fiction you are working."
MEMBERS WANTED! Sumeshnee [Sumie] Reddy is keen to start a writers group in the North of Johannesburg. The venue will be the Skoobs Bookshop at Monte Casino, to meet every Wednesday from 7-9pm. Sumie invites all writers to bring along their written works to share with other members to review and discuss. Please contact Sumie on 083 709 9011.
New Writers' Group! Calling all budding and established writers … Writing the Child is a newly established group that will meet for coffee and refreshments at Motherland at the Rosebank Mall on the first Saturday [starting 1 August] of every month at 10 a.m. until 12 p.m. [a fixed schedule will be set at the first meeting]. We will be focusing on children's writing and stories. The aim is to hand in a piece of writing at every meeting. These pieces will be rotated among the group to be read, critiqued and returned at the next meeting. This is so that the members can get regular guidance on their writing journey. Each member can take a turn to head a meeting, giving a brief talk on children's literature, ways of writing and anything related to writing in this genre. Contact Lauren Kent on 0729272026 or email her at africanstorygatherer@gmail.com for more information.
The Thursday Workshop is a weekly get-together on Thursdays from 18.00 to 22.00. The venue is at 17, Rietfontein Road, Rivonia, Johannesburg. Poetry, stories, novels, and screenplays etc. welcome. Contact Jane Fox on 011-803-1849 or 082 9207 952.
The Writers' Guild S.A. The Writers' Guild of South Africa is the only professional association in South Africa with a mandate to protect, empower and develop performance writers in the local film, television, radio, stage, animation and new media (internet – mobile and digital distribution, and gaming) industries. The WGSA is an associate member of The International Association of Writers Guilds. Postal Address: P.O. Box 1330, Fontainebleau, 2023. Physical address: 125- 3rd Street, Linden, Johannesburg. Tel: +27 (0)11 888 4349. Mobile: +27 (0)82 575 6901. Fax: +27 (0)86 654 1972. Email: admin@writersguildsa.org  & wgsainfo@gmail.com.  The WGSA is a registered Non-Profit Organisation (NPO) and a Public Benefit Organisation (PBO) which is solely dependent on fundraising. Its mandate is governed by a constitution and a council. All activities are executed by volunteer council members and a part-time Executive Officer.
————————————————————————————————————————-
The Pretoria Barnyard Theatre recently launched its brand new Musiekskuur venue! This small intimate venue accommodates up to 120 guests, has its own private bar, foyer area and bathroom facilities. The venue is fully equipped with state of the art sound and lighting as well as a stage, tables and chairs. It is the perfect venue for presentations, wine tastings, club meetings, networking functions, year end functions, awards ceremonies. (any occasion can be accommodated). Contact Charné McLachlan for more information: T: +27 12 368 1555 | F: +27 86 669 9523 or charne@barnyardtheatres.co.za | www.barnyardtheatre.co.za
————————————————————————————————————————–
The Fully Booked Literary Group is a group aimed at writers and readers of all ages, gender, race and genre as well as experience – from novice to published authors. Based in Pretoria East the idea is to have monthly. bi-monthly AND face-to-face meetings, as well  as ad-hoc discussions on the Facebook page – more details available on the page (https://www.facebook.com/FullyBookedCircle). The group has been revived after a long while of inactivity and Mary van Ede is looking to completely revamp the group.  If you are interested in becoming part of this exciting literary group, please contact Mary van Ede on fullybookedsa@gmail.com or 074 790 7620.
The Pretoria Writers' Circle PWC) invites you to join them at their monthly meetings where they have a poetry session, an open meeting as well as a prose workshop – email (pretoriawriterscircle@gmail.com) for more information. You are welcome to write a short piece on our monthly assignment (no more than 1,000 words) or come along and share any other piece of prose or poetry. Join the PWC or just come along and meet the members! Meeting attendance show 12 to 15 active members (although we currently have 28 members), ranging in age from 20 to 70. We are all "hobbyist" writers. We have a Chairperson who conducts the general meetings, with an appointed Secretary who takes meeting notes and distributes them to members. The poetry and prose sessions also each have a specific facilitator to conduct meetings. Should you decide to become a member, a subscription fee of R100 per annum applies. Details for our monthly meetings are as follows: Venue: Meeting room of The Alkantrant Library, Lynnwood, Pretoria. Date: First Saturday of each month (10h00 – 14h00). Program: 10h00 – 11h00: Poetry session where we share and discuss poetry pieces written by members. 11h00-12h00: Open Meeting to read/share your work with other writers; 12h15-14h00: Prose Workshop where pieces are discussed and critiqued. The Pretoria Writers' Group consists of 9 active members meeting on Facebook and face-to-face once a month at the Cherry Berry Café in Centurion. We already have 4 published authors and the group will bring out a multi-genre, single themed anthology in mid 2014. We also take part in the NaNoWriMo challenge every year, and have weekly write-ins at our venue during the whole of November 2013, where anyone can join in. While we are not taking on more members, anyone who is interested in taking part in future projects, typically short story anthologies, is welcome to contact the group leader Linzé Brandon at linze011@gmail.com for more information. http://www.linzebrandon.blogspot.com; Twitter @LinzeBrandon; Facebook http://mrkt.ms/MGHWXK; My books @ http://buff.ly/18mCCBe
S.A. Pen [http://www.sapen.co.za/] 
is a non-political organisation representing writers of the world, defending free-expression and encouraging literature. We live by a strong PEN Charter which champions the ideal of "one humanity living in peace in one world". Is this not an ideal to uphold for all people on all continents, including Africa? Write! Africa Write! becomes a call for African writers to say what they wish to say and to eschew the divisions of the past in favour of the idea of one humanity living in peace on one continent. Originally PEN stood for Poets, Playwrights, Essayists, Editors, and Novelists. A leading voice of literature, PEN now brings together poets, novelists, essayists, historians, playwrights, critics, translators, editors, journalists and screenwriters in a common concern for the craft and art of writing and a commitment to freedom of expression through the written word. Through its 145 Centers in more than 104 countries, International PEN operates on all six continents. The South African PEN Centre (SA PEN) is a branch of International PEN. Qualification for membership of SA PEN is a recognized position as a published writer (one published literary work, or more), or a person deemed by the committee to be recognized as of sufficient standing, and is by invitation only. The committee is the final judge of any candidate for election to the SA PEN. A candidate for membership is also required to agree to subscribe to the PEN Charter. Contact SA PEN: 
Postal Address:
P O Box 732, Constantia, 7848, Cape Town. 
rudebs@icon.co.za
 (Secretary)
Creative Writing Adventure in Pretoria hold morning (from 09:00) and evening workshops on Saturdays. Evening workshops by arrangement. Cell: 073 269 7858
Kwa-Zulu Natal
Live Poet's Society – At each meeting there is usually a notable guest poet, followed by the evening's theme which is decided in the previous month. Members present their poems which are inked to the theme. There is also always a Poet Pourri where members present work on any topic. Adams Books Coffee Shop, Musgrave Centre, Musgrave, Berea, Durban. 5:30 pm every second Wednesday of each month (except January). There is no subscription or entry fee, but donations towards expenses are accepted. Please contact Brett Beiles 031 266 4762 or 082 516 0517; or email (thirdeye@3i.co.za).
South African Writers' Circle [http://sawriters.org.za/] holds monthly meetings. The SA Writers' Circle encourages and assists all writers, both novice and accomplished; and promotes the art of creative writing in general. There is an annual membership. Email Brigitta Simpson (Chairlady)  southafricanwriterscircle@gmail.com.
Mpumalanga
Mpumalanga Writers' Association: Please direct your inquiries to the Chairperson of the Association, Mr Marcus Sikosana on 013 249 8576 or 460 6250 or email him msikosana@wit.mpu.gov.za.
Western Cape
Parow Library Writers' Group meets every 2 weeks on a Monday at 5.30 pm at the Parow Library, c/o McIntyre and 1st Ave Parow, 021- 4440940.  The group is for anyone interested in writing, from beginners to those who have had books published. For more information contact Kathleen Laishley, Principal Librarian: Parow Library, Library and Information Services, City of Cape Town. Tel: +27 21 4440939; E-mail: kathleen.laishley@capetown.gov.za; Website: www.capetown.gov.za
Cape Town: Writing Group for Women convene every third Saturday of the month. This writing group for women meets in Cape Town to write and share their thoughts in a casual environment. Snacks are provided. Venue: 5 Howe St. Loft 5, Observatory, Cape Town, from 15:30 to 17:30. For more information email Anna (annamair@absamail.co.za) or phone 083 375 9686.
Bergvliet Writers' Circle – this group has an annual program of writing projects including short stories, articles, plays for radio or television, and they have even written an episode of a soap opera. Members meet every 2nd Wednesday of each month, at Marina De Gama. Membership fee: R40 per annum. Monthly assignments include a critique, either from two members within the circle, or from an outside critic. Chairman: Stephanie Brotherton. Treasurer: Scott Gill. Email Ginny Swart (Ginny@ginnyswart.com) for more details or phone 083 5565 237. "The Bergvliet Writers' Circle has been running for just over 40 years [established in 1975] and these days our 16 members come from suburbs as far afield as Fish Hoek, Clovelly, Diep River and Constantia. The average age is – well above average – but our youngest member, Sian Martin, is in her  twenties; our most senior member, Dave Fyfe, celebrated his 90th birthday last year and never fails to write an entertaining and thoughtful assignment. We meet every month at the home of one of the group and different members provide tea and cake. We are always looking for new members and welcome visitors to come along and see if they would like to join us," says Ginny.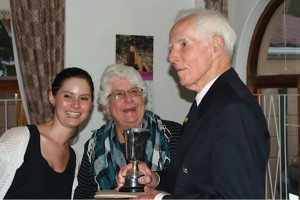 Birthdays are a signal to bring out the champagne! Photo taken at our 2014 Christmas party: Sian Martin with Secretary Ann Slate and Dave Fyfe receiving the annual award for Non-Fiction.
"At the start of each year we meet to set the assignments for each month. This year we'll be writing a radio play, poetry, researching an article for a local paper, and lots of short stores – some of which are timed to be submitted to magazines for the Easter/Halloween/Christmas editions. Some members love writing poetry while others never submit an article, so we try to keep everyone happy most of the time. When any members spot news of a writing competition, we circulate it to the rest of the group. We appoint two members to critique our monthly assignments and these crits  are read aloud, along with the work the following month. Crits are honest so our members can learn from them. We do our best to find outside writers to come and give us a talk on publishing or aspects of writing. We are a pretty technically challenged bunch so until someone joins us who could become our official Webmeister, we will probably carry on without a web site of our own. Some of our members have had work accepted in local papers as well as magazines in South Africa, Australia, the UK and America. No one has attempted to write a book but that could happen! Our year ends with a great Christmas party where awards are handed out and the winner of the Rose Bowl trophy is announced," says Ginny Swart, member of the Bergvliet Writers' Circle.
Betty's Bay Writers' Group meets once a month to foster and encourage creative writing with a view to being published. This group has been active for over 25 years. Membership is open to all who are interested in developing their writing skills. Members must undertake to submit at least 4 manuscripts per year for evaluation and critique. Our group has close contact with the Bergvliet Writers' Circle. Meetings take place on the second Thursday of every month from 19:00 at Kikimbala, Lipkin Road, Betty's Bay. Contact Jean Martindale on 028 272-9654.
Bhala Writers' Group – Contact: Fikiswa Magqshela or Mrs Yawa at 021 466 2590
Fish Hoek Writers' Group – Meets at Fish Hoek Library. For further information contact Fish Hoek Library on 021 782 1115.
Kenilworth Writers' Circle – For both fiction and memoir writers. Beginners welcome. For inquiries and details contact Jean Knighton-Fitt on 021 762 2724 or email her at jkf.writing@getaplace.co.za . We hold a writers' retreat on the fourth Saturday of every month. A wide range of people come – from beginners to professionals; from those who just want to write once a month for fun to those who are working on books; from young to old. The day includes warm-up exercises, input of some kind, about three hours of silent writing time. There is a large quiet garden with many nooks and crannies – and time for reading and listening to one another. Feedback ranges from 'affirmative' to 'creative critical' – depending on what any particular writer is needing at that time.
Lansdowne Local Writers' Group – Bring along a dozen photocopies of a short story, novel chapter, play scene or poem that you'd like members' constructive criticism and comment. Or just can just listen and enjoy others' work. Meetings are held on the last Saturday of each month from 18:00 at 36 Markham Road, Claremont 7708. Contact Keith Gottschalk on 082 202 3304.
The Centre for the Book, an Outreach Unit of the National Library of South Africa, is charged with the responsibility to promote and enhance a culture of reading, writing, publishing and easy access to books for all. Their Out to Lunch Session and other sessions under the auspices of The Centre for the Book, provides capacity building workshops countrywide as part of its mandate to support writers. Free writers' sessions called Out to Lunch Sessions are held on the last Wednesday of every month from 13:00-15:00 at the Centre for the Book in Cape Town or at the National Library in Pretoria. Invited facilitators lead discussions on various aspects of creative writing, editing, publishing and other interesting topics. In some cases newly published authors are invited to share their publishing experiences and talk about their writings. Book lovers and interested members of the public, budding authors young and old are welcomed to attend and participate in the sessions. The sessions provide a good network platform for authors, and capacitate writers in various writing experiences. Out Lunch Sessions are publicized widely through electronic media such as  CFB facebook, brochure, NLSA website, and electronic newsletter, word of mouth and writers are also encouraged to register on CFB writers database to be able to receive notifications and communications on time. About twenty to thirty participants are invited per session. Should you want to facilitate any topic, you have published your book or just want to attend Out to Lunch Session please contact Ms Nelisa Lunika at 021-423 2669 or nelisa.lunika@nlsa.ac.za. All writer's are welcome. The group provides a platform to write and read every week, with other writers, even if you're a complete novice.
South African Writers' Association (SAWA) meets quarterly. Contact Keith Gottschalk on 082 202 3304
WriteScapes meet once a month in Kalk Bay and Somerset West. Contact Mandy Lebides on 021 788 8375 or 082 453 6262.
The West Coast Writers' Circle comprises aspiring writers with interests in different forms of writing and a desire to meet regularly with like-minded individuals. Our members hail from all ages, races and writing abilities. Our meetings offer inspiration, writing exercises, presentations, guest speakers, readings of our member's writing and many more fun activities. We meet on the last Saturday morning of each month (except December) at the Milnerton Library located in Pienaar Street. We provide tea, coffee and biscuits on a self-service basis. Due to a time limit at the library we start promptly at 9:30 a.m. and we finish at 11:45 a.m. To help develop our writer's literary theory, knowledge and skills, we have a small library of books about writing, prose, poetry etc. available to our regular members at no charge. We also offer information on competitions, upcoming literary events and anything else which may be of interest on our website at www.westcoastwriterssa.weebly.com or may be put up on the wall at a meeting for those with no internet access. The Circle has a 'no censorship' policy but we do ask that when writing about potentially sensitive topics (e.g. religion, sex or politics), members use common sense, courtesy and caution. To foster friendships and networking among members there are also additional social meetings at homes, coffee shops, etc. These events are spontaneous and planned at short notice. So to join an amazing group of writers or for information, phone Alison Smith at 021 554 5634 or email her at  westcoastwriterssa@gmail.com.
Friends of Central Library (FOCAL) Poetry Circle – Contact Marcia Raymond [rfg@iafrica.com] or (021) 797 9031